Friday 16th August sees the end of of the world famous Cowes Week Regatta which this year concludes with a fireworks extravaganza courtesy of Red Funnel. What better way to experience this than from the water? It takes the celebrations to another level and really is a sight to behold.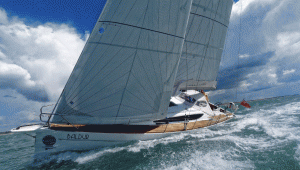 Join us for our Cowes Fireworks Finale – an afternoon's sailing our Maxi 1200 Baldur, dinner at Hamble marina* and then we'll head out again into The Solent to be a soak up the fireworks display.  We'll have you back in Port Hamble by around 11pm and all for just £100+VAT per person.
No previous experience is necessary and we'll provide you with all the equipment you need and food and drinks onboard, so all you need to do is get yourself to and from the Humble and we'll take care of the rest for you.
If you'd like to discuss things in more detail, please call William on 07768 500205 or drop him an email.  There are seven places available which will be allocated on a first come first served basis, so please email william@williamavery.co.uk to reserve your place now so you don't miss out on this fabulous event.
* dinner is at your own expense and not included in the £100+VAT fee. This also excludes travel to and from The Hamble and any overnight accommodation you may require.