SailGP is sailing's answer to Formula 1 – as their website tells us, "it's an annual, global sports league featuring bold, cutting-edge technology and awe-inspiring athleticism. The fan-centric, inshore racing takes place in some of the most iconic harbors around the globe and culminates with a $1 million winner-takes-all match race. Rival national teams battle it out in identical supercharged F50 catamarans, engineered for intense racing at electrifying speeds exceeding 50 knots (nearly 60 mph/100 kph)."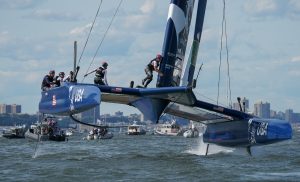 Cowes (the Isle of Wight) is the centre of the UK leg of the event and to find out more about the programme and set up for Cowes, take a look at the SailGP website. You can also get a feel for the event via their YouTube channel.
We're delighted to be able to offer you the opportunity to experience this exciting new event from the water by joining us in The Solent on our Maxi1200 Baldur on 10th and or 11th August 2019.  We'll spend the morning sailing and then after lunch onboard, find a spot to watch the action which starts early afternoon.  Baldur is well equipped with what's needed to keep drinks at the right temperature as well as other creature comforts such as heating, hot and cold running water and WC.  We'll also make sure you can charge phones etc to keep you connected!
You don't need any previous experience and we'll provide all the equipment you need – all you need to do is get yourself to and from Port Hamble.  We'll see you there at around 9.00am on both days and after breakfast and a safety briefing go out for a sail. Apart from the fun of sailing there will be plenty to see because it also the beginning of Cowes Week, probably the largest sailing regatta in the world. We'll also make sure that everyone on board has a go at sailing the boat.  We'll aim to have you back in Port Hamble by by around 6.00pm (depending on the traffic back up the river) to then travel home.
The price for the day is £100+VAT and this includes breakfast lunch and drinks and snacks throughout the day and all necessary safety and wet weather gear so all you need is normal outdoor clothing and suitable shoes.
Spaces are limited to please get in touch today to reserve your space for this very exciting addition to the sporting calendar.  Call William on 07768 500205 or drop him an email at william@williamavery.co.uk.