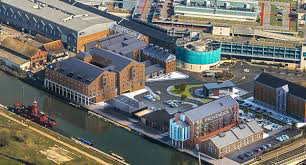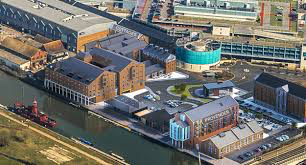 Phase 1 of the Bakers Quay development in Gloucester Docks has recently been completed on target and on time, delivering 47 apartments, 4 cottages, a 104 bed Premier Inn, Beefeater restaurant and a Costa Drive-thru. You can find out more about the development at Bakers Quay.
With prices ranging from £162,000 to £252,000, there are three versions of apartment available:
Warehouse – a 1 bedroom apartment with living room and balcony
Elevator – 2 bedroom, 2 bath / shower rooms, with living room and floor to ceiling windows with stunning views down the canal
Penthouse Duplex – spread across the top two floors, these are 2 bedroom, 2 bath / shower room apartments with a double height living room and balcony.
There are also four beautiful cottages, originally built in the early 1900s, which have been completely refurbished and there is courtyard access to each. The spaces have been designed to be flexible and can provide either two double bedrooms with a study and a second living room on the first floor, or four bedrooms with a ground floor kitchen / living room.
Phase 2 will be starting soon and involves the renovation of two former malt houses to deliver a 120 flats and three A3 units.